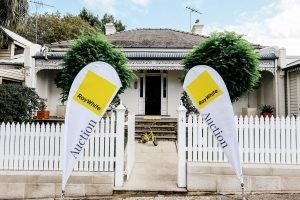 Due to Labour Weekend, our auction date this week was Wednesday where, as a result of the very positive and encouraging real estate activity of recent weeks, four properties were added to the listing which was due on this date.
Five properties were offered For Sale and five properties sold 'under the hammer' – a 100% clearance. We acknowledge this was aided by four of the properties being brought forward from their designated auction dates due to pre-auction offers which were accepted by our vendors, subject to the properties being submitted to auction on the earlier date. So yes, four of our vendors had a positive start, undeniably due to all the diligent work by our sales people from the time of listing, to ensure buying interest that would attract vendor attention.
The properties came from Pakuranga, Cockle Bay, Shamrock Park, Dannemora and Mount Wellington. The Headsail room of the Bucklands Beach Yacht Club, the home of Ray White Auctions, again attracted a very pleasing number of people. This included those who had registered buying interest, those who had expressed conditional buying interest for 8 Nan Place and those who came along to see what is selling and for what price, to give an idea of what is happening very currently in the real estate market.
The evening began with 19 Del Mar Court, Shamrock Park which was brought forward from its 4 November auction date , due to a pre-auction offer which was accepted by our vendors , subject to the property being submitted to auction on the earlier date. It sold 'under the hammer' for $2,170,000.
8 Nan Place, Pakuranga was the next to sell 'under the hammer' after 12 very competitive bids, for $970,000. 15 Four Trees in Cockle Bay followed, as above, having been brought forward from its scheduled 11 November auction date. It sold 'under the hammer' after a pre-auction offer start of $1,450,000 and 31 bids, for $1,601,000 – a reflection of a house which had attracted immediate response for an impressive home and living environment.
5 Carousel Crescent in Dannemora was next, as above, also brought forward from its scheduled 11 November auction date and selling 'under the hammer' for $1,150,000. 185 Panama Road in Mount Wellington followed in the same way, again brought forward from its scheduled 11 November auction date and selling 'under the hammer' for $850,000.
Therefore after, in most cases, under three weeks of marketing, as stated at the beginning, these were very positive results for both our vendors as well as buyers, who had the opportunity to secure quality properties.
Our vendor clients are certainly listing quality properties. This gives buyers quality buying options, as well as an opportunity to evaluate the these options with our ability to give prospective buyers direct access to a highly experienced, award winning team of mortgage advisors, who have access to a variety of lending institutions and their very favourable mortgage conditions.
As indicated in our recent reports, the results we are achieving demonstrate a confidence in the current real estate market, as well as a confidence in the quality real estate options which we enjoy in our Eastern Beaches area, particularly now, as we move through the remaining eight effective transaction weeks for 2019.
I continue to emphasise that we consider we are achieving extremely good price results for our vendor clients within a much defined marketing period, acknowledging that our challenge always is to meet vendor price expectations with buyer price expectations. As with all sales, there needs to be a 'win/ win' on both sides – vendors need to be satisfied that the price achieved is the best the market for that item will allow and, buyers need to be satisfied that they have achieved 'buyer value'.
As a foot note, I keep an eye on Australian trends through reports published by Williams Media, which this week reported: 'Busiest week for auctions for the year. A preliminary clearance rate of 75.3 per cent and volumes up by 33.5 per cent has confirmed the busiest week on the auction calendar for the year.
Melbourne
The higher overall volumes this week can be mostly attributed to the surge in activity across Melbourne, which is not unusual over what is the pre Melbourne cup weekend each year.
There were 1,528 Melbourne homes taken to auction this week with volumes reaching their highest levels since this time last year (1,701).
Sydney
Sydney recorded a preliminary clearance rate of 79.7 per cent across 761 auctions this week, after last week's final clearance rate of 79.2 per cent; the strongest final result the city has seen since early 2017.'
Ken Ralph
Auction Services Manager