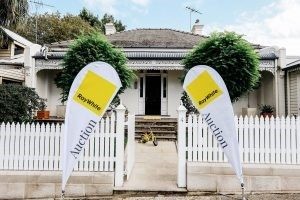 After several weeks of overall, very high bidder/buyer activity, this week's portfolio met with a little more reserved reaction. This may, perhaps, be due to a number of properties within the portfolio offering redevelopment opportunities, coupled with investor developers being cautious and preferring to carry out more 'homework', before committing further to completing a sale agreement. However, the mix of family homes and townhouse/units received good bidding interest and sales 'under the hammer'.
The portfolio included properties from Pakuranga, Bucklands Beach, Mellons Bay, Howick, Highland Park, Northpark, Dannemora, and Wai O Taiki Bay.
We began by recognising 'under the hammer sales' from four properties whose auction dates were brought forward from their designated dates and were detailed in last week's report.
37 McMillan Place in Mellons Bay sold 'under the hammer' after some 10 bids, for $1,640,000.
1/7 Malloy Place, Eastern Beach sold 'under the hammer' after some 29 competitive bids, for $822,000.
13D Ballater Place, Highland Park sold 'under the hammer' after some 18 bids, for $730,000.
35B Eastridge Court in Northpark sold 'under the hammer' after some 10 bids, for $980,000.
We continue to work with buyers for the balance of the portfolio.
So, after three weeks of marketing we achieved very positive results for our vendors, as well as success for buyers who had the opportunity to secure quality properties.
As I have highlighted in previous reports, our vendor clients have, consistently each month of this year, listed quality properties. This has given buyers quality buying options, as well as an opportunity to evaluate these buying options with our ability to give prospective buyers direct access to a highly experienced, award winning team of mortgage advisors, who have access to a variety of lending institutions and their very favourable mortgage conditions.
As indicated in recent reports, the results we are achieving continue to demonstrate a confidence in the current real estate market, as well as a confidence in the quality real estate options which we enjoy in our Eastern Beaches area.
As a foot note, I keep an eye on Australian trends through reports published by Williams Media, which this week reported: 'There were over 3,000 capital city homes taken to auction this week, making it the busiest week for auctions we've seen this year; in fact the largest number since March last year.
Gil King, CEO of the Real Estate Institute of Victoria said a flurry of auction sales on Saturday has capped off a mammoth spring for Melbourne real estate. "Agents were kept busy on Saturday with 1082 properties going to auction; a phenomenal 77% of those were sold," said Mr King to Williams Media. "The high volume of sales shows how enthusiastic buyers are to get into the Victorian property market. "The 2019 Spring auction period has been very strong with over 11,034 homes having gone to auction."
Mr King said buyers have been scrambling to purchase homes. "Following leaner times in recent years, there are currently a lot of happy faces in Victorian Real Estate," said Mr King.
"With softer lending conditions and record low interest rates, a lot of people are eager to purchase a property."
Sydney
There were 1,131 auctions held in Sydney this week making it the busiest week of the year for the city. Over the same week last year 937 Sydney homes were taken to auction across the city.
Justin Nickerson of Apollo Auctions said another strong weekend was experienced in Brisbane. "The average number of registered bidders in particular (is) continuing to increase," said Mr Nickerson. "Volumes remain strong for another two weekends, and a large degree of buyers are showing a willingness to transact pre the break."
Ken Ralph
Auction Services Manager