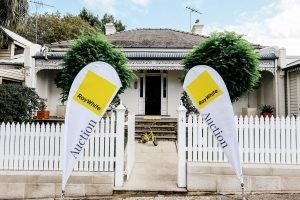 The 26 August 2019 portfolio included properties located within Sunnyhills and Bucklands Beach. As usual, there was a very pleasing attendance at the Headsail room of the Bucklands Beach Yacht Club, the home of Ray White Auctions. This included people who had registered buying interest, those who had expressed conditional buying interest and those who came along to see what is selling and for what price, to give an idea of what is happening very currently in the real estate market.
Highlights of the evening included the 'under the hammer' sale of 1/9 Tina Place in Sunnyhills, which opened with a confident bid at $630,000 and, after 10 further bids, sold at $695,000.
7 Yacht Place had attracted an exceedingly positive response during the lead up marketing period with outstanding numerous inspections, through both private and Open Home viewings, which resulted in seven extremely pleasing bidding registrations. A very positive start from the floor opened at $1,400,000, with bidding finishing at $1,600,000. At the time of writing this report we are still negotiating in a multi-offer presentation with buying interest.
We also continue to work with buying interest for both 23 Quedley Court and 94A Clovelly Road.
It is important to qualify results by noting that some vendors are not always able to accept buyer expectations of price, for various reasons. Nevertheless, auction marketing is a very positive way of testing the market in a defined space of time to determine if the buyer's price will enable them to make the lifestyle/ property change they envisage.
There are always various reasons why potential buyers cannot meet the terms of an Auction For Sale and Purchase Agreement, which is a totally unconditional agreement. However, as stated above, we try to work with these potential buyers to attract the best conditional sale for our client vendors.
As stated in my last report, during the mid-winter months new listings, in some years, can be more limited as vendors wait for the brighter spring months. However, as we have demonstrated again in recent weeks, there is very good buyer activity as buyers readily recognise that when quality properties are offered For Sale, the time of year is of no consequence. Well marketed properties will sell each and every month of the year and with confidence. Vendors at this time of the year choose to market their properties now, rather than waiting for the influx of spring listings, which will come to the market as we move into the coming month of September.
I continue to emphasise that we consider we are achieving extremely good price results for our vendor clients within a much defined marketing period, acknowledging that our challenge always is to meet vendor price expectations with buyer price expectations. As with all sales, there needs to be a 'win/win' on both sides – vendors need to be satisfied that the price achieved is the best the market for that item will allow and, buyers need to be satisfied that they have achieved 'buyer value'.
As a foot note, I keep an eye on Australian trends through reports published by Williams Media, which this week reported: 'Buyers continue to be out in force during the final weeks of winter, with the latest preliminary results from CoreLogic indicating the capital city clearance rate for the week ending August 25 could surpass the previous week's mark. Data from CoreLogic indicated there were 1,412 homes taken to auction across the combined capital cities for the week ending August 25, in comparison with 1,228 the previous week. A preliminary clearance rate is expected to be the highest in two years.
Sydney recorded the highest preliminary clearance rate the city has seen since February 2017.
REINSW President Leanne Pilkington said while there had been an increase in volume, it was "nowhere near enough" to satisfy current demand. "Last week's open home attendances were up 42 per cent, clearly demonstrating that buyers are back in the market," she said. "We just need some sellers to join them."
From Melbourne, REIV CEO Gil King said the institute's clearance rate of 81 per cent was the highest since the last week of April 2017.
Ken Ralph
Auction Services Manager