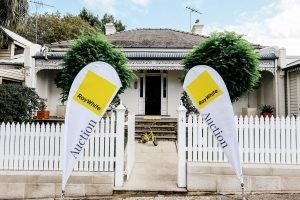 The 22 July 2019 portfolio comprised four properties, which attracted a pleasing attendance to the Headsail room of the Bucklands Beach Yacht Club, the home of Ray White Auctions. This included people who had registered buying interest, those who had expressed conditional buying interest and those who came along to see what is selling and for what price, to give an idea of what is happening very currently in the real estate market.
We had identified bidding registrations for two of the properties. The remaining two attracted conditional buying interest from those who were unable to meet the unconditional terms of the Auction For Sale and Purchase Agreement.
The top level apartment at Marina Terraces, 5/2 Sunderlands Road, attracted bidding interest to $2.2m and sold immediately post auction, after further negotiations and a further price adjustment.
1/3 Jern Place, an original presentation unit, attracted bidding to $765,000 and also sold post auction after further negotiations and a further price adjustment.
1/164 Ridge Road offered buyers a very attractive presentation. We had identified conditional buying interest v. buyers who were able to meet the terms of the Auction For Sale and Purchase Agreement. The conditional buyers were in attendance at auction time and commenced immediate post auction negotiations, which concluded with a pleasing conditional sale for our vendors.
We readily acknowledge that there are always various reasons why potential buyers cannot meet the terms of an Auction For Sale and Purchase Agreement, which is a totally unconditional agreement. However, we try to work with these potential buyers to attract the best conditional sale for our client vendors.
We continue to work with buyer interest in 7 Thornbury Crescent.
Tuesday 23 July 2019
162 Ransom Smyth Drive was offered For Sale through an auction programme. Six bidders registered for the auction and it sold, under the hammer after some 12 competitive bids, at $772,000.
So, after three weeks of marketing these are extremely favourable results, which underline my comments over recent weeks on positive buyer activity.
During the mid-winter months new listings, in some years, can be more limited as vendors wait for the brighter spring months. However, as we have demonstrated again in recent weeks, there is very good buyer activity as buyers readily recognise that when quality properties are offered For Sale, the time of year is of no consequence. Well marketed properties will sell each and every month of the year.
I continue to emphasise that we consider we are achieving extremely good price results for our vendor clients within a much defined marketing period, acknowledging that our challenge always is to meet vendor price expectations with buyer price expectations. As with all sales, there needs to be a 'win/ win' on both sides – vendors need to be satisfied that the price achieved is the best the market for that item will allow and, buyers need to be satisfied that they have achieved 'buyer value'.
As a foot note, I keep an eye on Australian trends through reports published by Williams Media, which this week reported with the headline: 'Capital city auction markets recorded the highest preliminary clearance rate in over a year. REIV CEO Gil King said there were 285 auctions reported to the REIV, with 202 selling and 83 being passed in, 34 of those on a vendor bid.
"The REIV has recorded a clearance rate of more than 70 per cent for five consecutive weeks, which has not occurred since November 2017."
Ray White Victoria/Tasmania Chief Auctioneer Matthew Condon said it was one of the best Saturdays of the year for Melbourne in terms of auctions.
"Winter 2019 is proving to be a great time to be selling a property and that's reflected in the strong clearance rates we've seen today," Mr Condon said. "The clear weather really brought bidders and buyers out into the open and we're seeing this trend where people want to get their property bought before spring selling season begins. Stock levels remain quite low which means the competition for properties is high and that's highlighted in yet another increase in the number of active registered bidders," he said.
From Sydney, Ray White NSW Chief Auctioneer Alex Pattaro said families, in particular, were coming back into the buyer's circle this week.
"Local families are trickling back into the market place and we've certainly seen a rise in this demographic through open homes and at auctions today," Mr Pattaro said. "Whether it be upsizing, downsizing or upgrading, our preliminary data shows that auction attendance is holding firm at 45 attendees per auction on average."'
Ken Ralph
Auction Services Manager