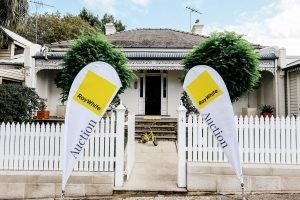 Auction Report 22 February 2021
Our 22 February portfolio was the 5th for 2021 and included a quality 11 properties across our
residential areas of Pakuranga, Bucklands Beach, Howick, Cockle Bay, Sunnyhills & Golflands.
The Headsail Room at the Bucklands Beach Yacht Club, the home of Ray White Auctions, again,
attracted a pleasing number of people who had registered bidding interest, along with our Vendors.
Social distancing was observed due to lockdown restrictions.
Very active bidding and a very pleasing level of "under the hammer" sales was clearly evident.
22 February 2021
There were many highlights throughout the evening:
80 Hattaway Avenue, Bucklands Beach got the evening off to a very positive start selling "under
the hammer" at $1,745,000 after a positive opening bid and some nine further bids.
15B Vida Place, Howick reflected the demand for new terrace style easier care housing selling
"under the hammer" at $892,000 after some fifteen competitive bids.
76A Cook Street, Howick attracted bidding interest to see it sell "under the hammer ""at
$1,750,000
A/2 Te Akau Crescent, Bucklands Beach reflected buying interest for easier care residences within
the sought after Bucklands Beach area selling "under the hammer "after some 27 very competitive
bids at $1,672,000
15 Swan Crescent, Pakuranga offered buyers a two bedroom minor dwelling alongside the three
bedroom home, it sold "under the hammer "at $1,525,000
4 Willow Way, Sunnyhills attracted bidding interest from buyers seeking an excellent presentation
within a sought after school zone. A very positive start and some 9 bids later it sold "under the
hammer "at $1,450,000
33 Howe Street, Howick attracted bidding attention due to its Howick Village location and more
traditional build surrounded by an easy care section size. It sold "under the hammer "after some 29
bids at $1,110,000
23 Bard Street, Golflands gave buyers an opportunity to buy a very well presented home in a
popular residential area. It sold "under the hammer "at $1,488,000
135A Ridge Road, Howick offered modern townhouse convenience selling "under the hammer
"after some 7 bids at $1,200,000
15C Vida Place, Howick and 92 Sandspit Road, Cockle Bay have been sold post auction. We
continue to work with the balance of the portfolio and the conditional buying interest to secure a
sale for our vendors.
24 February 2021
After a busy Monday evening we finalised 3 properties that were brought forward from their 1
March scheduled auction date, due to unconditional offers that were presented to our vendors and
accepted subject to the properties being submitted to auction.
The bidding for 47 Packspur Drive, Mission Heights started at the preauction offer at $1,260,000
and after some 40 competitive bids sold "under the hammer" at $1,371,000
16 Pine Terrace, Howick offered buyers spacious family accommodation, section size and privacy
selling "under the hammer "at $1,740,000
48 Cockle Bay Road, Cockle Bay started at the pre-auction offer at $2,250,000 and after 5 bids
sold "under the hammer "at $2,320,000 – a reflection of the demand for style, floor place space,
outdoor living, views and sought after neighbourhood position.
So, after three plus weeks of marketing, in some cases a marketing period of less than three weeks,
there has been extremely pleasing, positive, competitive bidding and great results for our vendors
whose properties sold under the hammer. It needs to be acknowledged that the sales provided
buyers with an opportunity to buy quality real estate assets knowing that while having to
competitively bid/ buy to be the "winner" they were bidding/buying property that was also the first
choice for a number of other buyers.
The prices achieved confirmed our ability to maximise price for our vendors, however, to achieve
such results, buyer interest, bidding registrations and actual competitive bidding are the
components to achieving great results.
Ken Ralph
Auction Services Manager