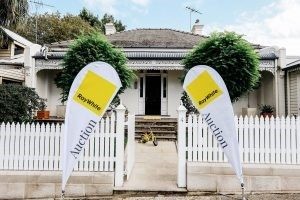 Our 16 September auction portfolio comprised properties from within the Pakuranga, Half Moon Bay, Eastern Beach, Dannemora and Flat Bush areas. There was a notably large attendance to the Headsail room of the Bucklands Beach Yacht Club, the home of Ray White Auctions. This included people who had registered buying interest, those who had expressed conditional buying interest and those who came along to see what is selling and for what price, to give an idea of what is happening very currently in the real estate market. There were three properties in particular which attracted above average buyer interest, contributing to the very pleasing attendance.
The evening got off to an extremely positive start with the 'under the hammer' sale of 629 Chapel Road, selling after some 11 buyer registrations and subsequent 23 bids, for $846,000. 1/15 Malloy Place followed, also selling 'under the hammer' for $1,470,000.
Next, 11 Tir Conaill Avenue attracted 14 bids, finishing at $895,000. However, this property sold with an increase in price immediately post auction.
The fourth property on the Order of Sale was 10 Prince Regent Drive and this was, perhaps, the bidding highlight of the evening. Bidding registrations were received from eight prospective buyers and, after some 46 very competitive bids, the property sold 'under the hammer' at $1,315,000.
So, after three weeks of marketing, not only very pleasing and positive results for our vendors but also, buyers were able to secure quality properties.
2/171 Pigeon Mountain Road was presented with offers in a multi offer presentation, immediately post auction. However, we are still working with buyers to achieve a vendor price expectation. We continue to work with other identified buying interest for the balance of the portfolio. There are always various reasons why potential buyers cannot meet the terms of an Auction For Sale and Purchase Agreement, which is a totally unconditional agreement. However, we try to work with these potential buyers to attract the best conditional sale for our client vendors.
The goal of our Auction Marketing Programme is to provide our vendor clients with an unconditional sale or, after three weeks of marketing, there is a base to work with conditional buying interest if unconditional buying interest is not achieved at, or immediately post auction.
September ushers in the start of the "Spring months" typically bringing with it an increase in listing activity and what will be a continuation of the positive buyer activity we have been experiencing during recent months. Our vendor clients are certainly listing quality properties, offering buyers quality buying options, as well as an opportunity to evaluate these options with our ability to give prospective buyers direct access to a highly experienced, award winning team of mortgage advisors, who have access to a variety of lending institutions and their very favourable mortgage conditions.
I continue to emphasise, that we consider we are achieving extremely good price results for our vendor clients within a much defined marketing period, acknowledging that our challenge always is to meet vendor price expectations with buyer price expectations. As with all sales, there needs to be a 'win/ win' on both sides – vendors need to be satisfied that the price achieved is the best the market for that item will allow and, buyers need to be satisfied that they have achieved 'buyer value'.
As a foot note, I keep an eye on Australian trends through reports published by Williams Media, which this week reported with the headline: 'Increased auction volumes across Sydney and Melbourne as Spring seller bounce continues. There was another slight increase in auction volumes across the capital cities for the week ending September 15, as clearance rates remained strong.
Ray White Victoria/Tasmania Chief Auctioneer Matt Condon said buyer confidence continued to remain strong in the state. "Inspections, open homes and crowd sizes were very healthy on Saturday," he said. "Based on Ray White's preliminary data, there has been a spike in the number of active bidders per auction across the past week. On the ground, you could also notice a trend in keen buyers placing their opening bid higher than expected."
Real Estate Institute of NSW President Leanne Pilkington said she expected clearance rates to remain high in the state. "There has been a small increase in auction numbers over the last week, but they are still significantly down on the same time last year," she said. "As a result we expect clearance rates to remain strong."'
Ken Ralph
Auction Services Manager