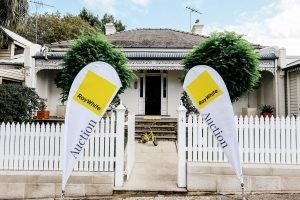 Although the 15 July portfolio was more limited in numbers than usual, the Headsail room of the Bucklands Beach Yacht Club, the home of Ray White Auctions, attracted a pleasing attendance. This included people who had registered buying interest, those who had expressed conditional buying interest and those who came along to see what is selling and for what price, to give an idea of what is happening very currently in the real estate market.
The highlight of the evening was the 'under the hammer' sale of 73 Aberfeldy Avenue, which sold for $985,000.
As reported last week, 1/12 Howe Street was part of this portfolio but auctioned ahead of the scheduled date due to a pre-auction offer which was accepted, subject to the property proceeding to auction at the earlier date. The bidding was opened at the pre-auction offer of $895,000 and after 10 competitive bids, sold under the hammer at $936,000.
We are working with buying interest for the remaining two properties within this portfolio.
During the mid-winter months new listings, in some years, can be more limited as vendors wait for the brighter spring months. However, as we have demonstrated again in recent weeks, there is very good buyer activity as buyers readily recognise that when quality properties are offered For Sale, the time of year is of no consequence. Well marketed properties will sell each and every month of the year.
I continue to emphasise that we consider we are achieving extremely good price results for our vendor clients within a much defined marketing period, acknowledging that our challenge always is to meet vendor price expectations with buyer price expectations. As with all sales, there needs to be a 'win/ win' on both sides – vendors need to be satisfied that the price achieved is the best the market for that item will allow and, buyers need to be satisfied that they have achieved 'buyer value'.
As a foot note, I keep an eye on Australian trends through reports published by Williams Media, which this week reported with the headline: 'Auction clearance rates have experienced their best quarterly result in 12 months, according to new data from CoreLogic. The research firm's Quarterly Market Summary indicates there have been increased rates across Melbourne, while Sydney's clearance rate has outperformed both the previous quarter and the June 2018 quarter.
Ray White NSW Chief Auctioneer Alex Pattaro said a lack of stock remained the biggest issue in the current market. "Our stock is selling under the hammer or just prior," he said. "Our vendors who have committed to a mid-winter auction campaign have been richly rewarded as there's plenty of buyers looking to transact. Auction attendance continues to blossom reaching a NSW high."
REIV CEO Gil King said Inner Melbourne and regional Victoria both recorded strong results. "Inner Melbourne was the winner last week with 85 per cent of 80 auctions sold under the hammer," he said.'
Ken Ralph
Auction Services Manager