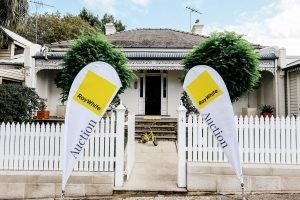 A much smaller portfolio this week as we start marketing an increase in listing activity which is the normal listing trend as we enter the "Spring Market " and the final months of a year.
While the numbers may have smaller never the less positive buyer reaction to the marketing and bidding resulted in both "under the hammer " sales and a post auction sale.
As highlighted, with just barley three months left of this year, buyers will be focused on requirements for the new year, be that for schooling requirements , size of home or lifestyle. Our Eastern Beaches area offers buyers quality real estate options and quality buying real estate assets.
Again, it was our pleasure to welcome a pleasing attendance to the Headsail room of the Bucklands Beach Yacht Club, the home of Ray White Auctions. Those attending included people who had registered bidding interest, those who had expressed conditional buying interest and obviously those who came along to see what is selling and for what price to give an idea of what is happening very currently in the real estate market.
The portfolio included quality properties across our residential areas of Half Moon Bay, Pakuranga, Dannemora and Mt Wellington.
It was so pleasing to see vendors achieving excellent sale results that allowed them to move on to enjoy their current requirements and buyers delighted to have the opportunity to buy quality properties. As indicated above, people taking a positive attitude, not waiting for life to pass them by or waiting to wait.
It was also evident that being able to place properties "on the market " to sell "under the hammer" was the key factor in vendors being rewarded with further bidding and achieving the pleasing final prices.
Highlights throughout the evening:
6 Skilling Place Half Moon Bay offered buyers an opportunity to move to a highly sought after cul de sac which is within walking distance to sought after junior to senior schooling. 648m2 surrounds a carefully refurbished home whose one level floor plan provides three bedrooms, ensuite and family bathroom. Indoors opens to appealing landscaped outdoor living to match all the style of the interior presentation. A positive start with competitive bidding reach a new activity level once the property was declared to "sell under the hammer " and with a total of 18 bids it eventually sold "under the hammer "at $1,720,000.
1/44 Opal Avenue Pakuranga offered buyers an opportunity to move to more traditionally built home that is now enjoys a contemporary presentation throughout its floor plan which provides very appealing combined living, kitchen, dining and lounge settings, which open out to private outdoor living . There are three bedrooms, family bathroom. After some pleasing competitive 12 bids, it sold "under the hammer " at $960,000.
4 Carniew Place Dannemora offered buyers an opportunity to move into a very popular cul de sac neighbourhood that is within walking distance to the Botany Town Centre and Botany College schooling. A very pleasing presentation spread through the three bedrooms, ensuite and family bathroom, lounge , dining and kitchen settings which open out to two outdoor living areas. Immediate post auction activity has resulted in a sale for our Vendors.
The balance of the portfolio has attracted buying interest that was not able to register to bid on an unconditional basis , so we continue to work with these interests to secure a sale that is satisfactory to our vendors.
So, after three weeks of marketing, extremely pleasing, positive, response to the three weeks of marketing. A market confidence result, however, it needs to be acknowledged that , in particular, the two "under the hammer " sales provided buyers with an opportunity to buy quality real estate assets knowing that while having to competitively bid/ buy to be the "winner" they were bidding/buying property that was also the first choice for a number of other buyers.
The excellent prices achieved confirmed our ability to maximise price for our vendors, however, to achieve such results, buyer interest, working with our mortgage broker partners, bidding registrations and actual competitive bidding are the components to achieving great results.
Ken Ralph
Auction Services Manager